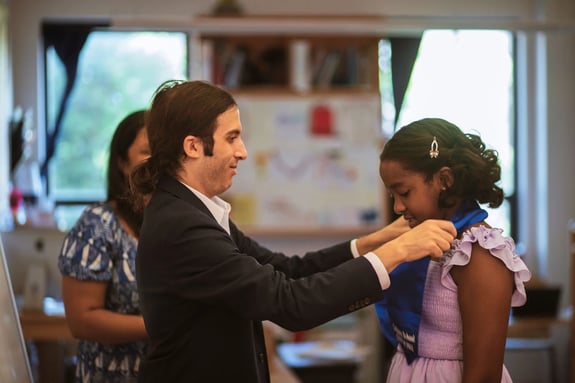 Middle School
Outplacement
Corlears School offers a comprehensive outplacement process that provides individualized support for all graduates and their families, including test and interview prep, application review, and more.
Corlears School graduates are high-achieving, thoughtful, and compassionate emerging leaders. Each year, our families are supported by a comprehensive, individualized outplacement process that ensures placement in an academic institution that serves their individual needs and learning style.
Our thorough outplacement program ensures a best-fit middle school match for each of our graduates. Corlears is a school made just for young children, and we have a reputation within the NYC middle school community for graduating students with a strong academic and social and emotional foundation who are well-prepared for the transition into middle school.
As a result, Corlears fifth graders are highly sought-after candidates with a number of prestigious schools to choose from, and all go on to one of their top three choices. Corlears alumni attend a variety of schools throughout New York City including single-sex, co-educational, traditional, progressive, public, and religious schools;
plus, through a special partnership with The Calhoun School
, Corlears graduates can choose to transfer their enrollment for sixth grade without a separate admissions process.
Additionally, Corlears is centrally located within the NYC DOE's second district. Regardless of their home address, our fifth graders are able to apply to selective District 2 public middle schools including the Salk School of Science, NYC Lab School, and Clinton School while receiving the same prioritization as District 2 residents.
How Outplacement Works
The outplacement process begins in the spring of fourth grade, when students sit for mock ISEE and SSAT exams. The results of these exams are used to identify learning opportunities and to develop curriculum for their graduating year, including individualized support from our Student Success Team (SST) as needed.

In the fall of their final year at Corlears, graduating families choosing to apply to independent schools are supported with test prep, mock interviews, application and essay review, one-on-one meetings with our Outplacement Director, and more. For those interested in transferring enrollment to The Calhoun School, the process is simplified. By October 31, those requesting financial aid from Calhoun will be provided with early indication of net cost; this expedited timeline allows families to continue with additional applications as needed, and with continued support from the outplacement team.

We're proud to say that by the time our students are embarking on an outplacement process in fifth grade, they know themselves as learners, they are confident in who they are as individuals, and they hold values that help them determine what type of middle school resonates with them most. With the option to transfer enrollment to The Calhoun School, the prioritization in applications to District 2 public middle schools, and the built-in supports for independent school applications, Corlears endeavors to create an outplacement process that is stress-free and filled with moments of discovery for students and their families.
Partnership with
The Calhoun School
In 2023, Corlears School and The Calhoun School announced a partnership to share resources and bridge the school communities, allowing students who graduate from fifth grade at Corlears to directly transfer their enrollment to sixth grade at Calhoun.

Both schools have very similar philosophies regarding progressive education, including open-concept classrooms, an emphasis on inquiry-based learning, and values-driven community. Corlears and Calhoun's longstanding relationship of overlapping values combined with a history of Corlears graduates continuing on to Calhoun makes the partnership both easy and natural.
Calhoun Enrollment Transfer FAQ
Is this a merger?
No. Corlears School and Calhoun remain completely independent of one another and will continue to operate as separate schools. Our new middle school partnership is a positive relationship we're thrilled to forge with a fellow NYSAIS school, thanks to our mutual positions as well-regarded and long-established progressive education institutions.
When does the partnership begin?
The partnership with Calhoun will begin with the class of 2024, meaning current fourth graders entering their graduating year will have the option to transfer their enrollment to Calhoun for middle school for the 2024–25 school year.
How will this impact the outplacement experience?
Corlears will continue to provide outplacement support to its graduating fifth-grade students for middle school. Our outplacement team will support families who wish to opt into the Calhoun enrollment transfer process, as well as those who choose to forego the transfer and apply to a variety of schools
Can my child still apply to attend other middle schools?
Yes. Corlears supports families' choice and ability to decide on middle school options for their child, and Corlears families are not required to participate in the enrollment transfer process. While we are excited to have this relationship with Calhoun, a fellow NYSAIS member school, the dedicated outplacement team at Corlears will continue to provide comprehensive support to any family who chooses to attend any other independent, parochial, or public school for sixth grade.
"Our child's transition from Corlears to Calhoun was seamless and she continues to thrive in her educational journey. Corlears School's commitment to a child-centered, progressive curriculum empowered our child with a solid educational foundation and learning style to call her own, which continues to be fostered at Calhoun."
— CORLEARS PARENT ALUM, CLASS OF 2021
2013–2023 Middle School Admittance List
Bolded schools represent admittance in 2022 and 2023.
Academy at St. Joseph

Avenues World School

Bank Street School for Children

Berkeley Carroll School

Birch Wathen Lenox School

Blue School

Brooklyn Independent School

Brooklyn Friends School

Browning School

Calhoun School

Cathedral School

Chapin School

City and Country School

Clinton School for Writers and Artists

Columbia Grammar and Prep School

Dalton School

Dwight School
Dwight-Englewood School

Ethical Culture Fieldston School

Friends Seminary

Gateway School

George Jackson Academy

Grace Church School

Hackley School

Hewitt School

Horace Mann School

The IDEAL School

Institute for Collaborative Education (ICE)

Léman Manhattan Preparatory School

LREI – Little Red School House and Elisabeth Irwin High School

Manhattan Country School

Marymount

Masters School

Nightingale-Bamford School
Packer Collegiate Institute

Poly Prep Country Day School

Riverdale Country School

Salk School of Science

Simon Baruch Junior High School

School of the Future

Spence School

Staten Island Academy

St. Hilda's & St. Hugh's School

Studio School

St. Luke's School

Stephen Gaynor School

Trevor Day School

Trinity School

UNIS (United Nations International School)

Village Community School (VCS)

WESS

York Preparatory School
What Alum Parents Have to Say
"Having to write and talk about our family interests, strengths, and weaknesses with my son has made me understand him better and become closer to him. Before the outplacement process I thought I knew what type of school he wanted and needed. However, throughout this process I discovered that what I believed was not necessarily accurate."
"Corlears was a passionate advocate for my daughter with schools. The outplacement director had such confidence in her capacity as a learner, and I know she communicated this to schools; someone at Dalton heard her loud and clear."
"[Our son] has grown so much through this experience, and now, while he still feels sad about leaving, he is no longer afraid of the future. He feels informed and excited. We feel certain that the experience he has had throughout his nine years at Corlears has been the right mix of warm nurturing and creative learning that will serve him well into the next stage of his education."
Connect with Admissions
Have questions? Our admissions team would be happy to help. Connect with the team anytime at admissions@corlearsschool.org, or click the button to subscribe for more information.