Elementary
Grades 1–5
Building the foundation kids need to fall in love with learning and gain confidence for everything to come.
Program Overview
As Corlears students grow as learners and individuals in the elementary years, they're encouraged to take ownership of their learning. Through each subject, discussion, and multidisciplinary project, students become leaders in the community, creative problem-solvers, collaborators, and critical thinkers.
Throughout the elementary years, Corlears students:
Learn to think like mathematicians.
Our approach to teaching early years math lays the foundation for fluency in mathematics, including strong number sense, deep understanding of the relationships between numbers, knowing how to compose and decompose numbers, recognizing multiple strategies and entry points, and developing flexibility with mathematical algebraic thinking and computation.
Why Choose Seedlings at Corlears?
Deepen their self-awareness and commitment to social justice. The big work of the upper grades is fostering self-awareness and a sense of community. As children gain a sense of self in relation to others, they can recognize the impact of their words and actions. This happens through social justice meetings, discussions of identity and race, and the exploration of history as well as modern day figures and current events.
Learn social studies in a greater context. As children move into the upper grades, social studies inquiries remain at the core of our program, bringing history and current events to life through immersive project-based learning.
Benefit from small class sizes. This ensures that deeper exploration and differentiation can continue, even as academic demands increase.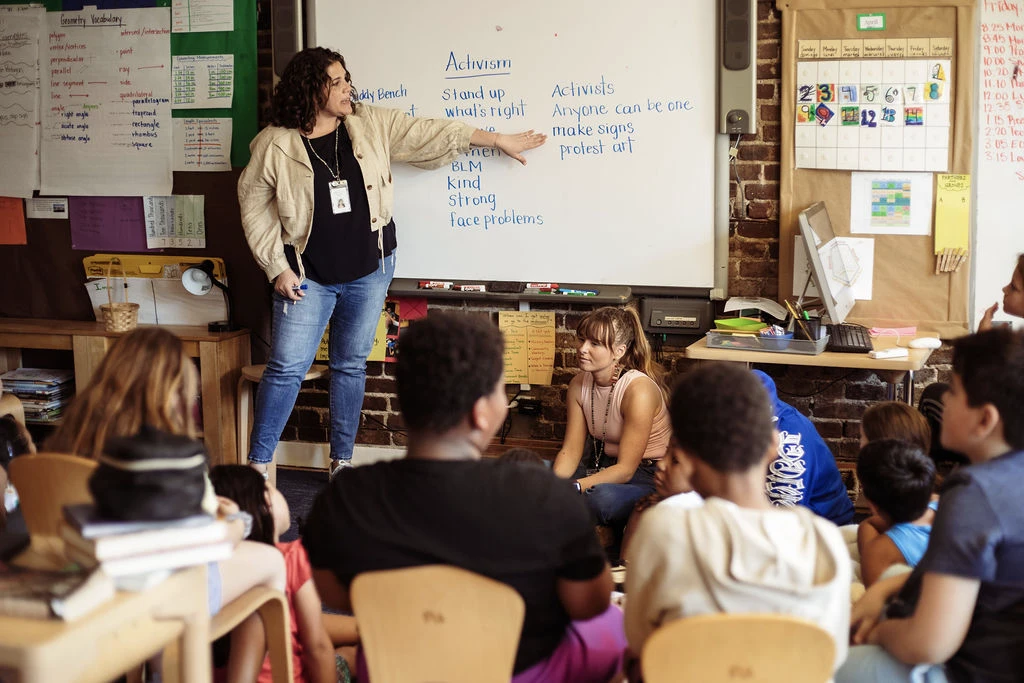 Why Choose Seedlings at Corlears?
Develop life skills for future independence. Homework begins and is designed to extend and reinforce classroom work, as well as provide practice with organization, time management, and basic study skills, which are essential for success in the upper grades. Once students reach our fourth and fifth grades, they have opportunities to experience educational overnight trips with their peers and teachers.
Why Choose Seedlings at Corlears?
"The elementary years are arguably the most important years in a child's educational journey. During this time, children are not only learning how to be students but also who they are as individuals. As elementary educators, we have the unique opportunity to help children develop a positive self-efficacy and strong ethical character so that they may go out and have a positive impact on the world."
A Closer Look: Browse by Grade
First Grade
Second Grade
Third Grade
Fourth Grade
Fifth Grade
First Grade
Explicit reading and writing instruction continues at the point where the student left off at the end of the Kindergarten year to ensure a smooth continuum of learning.
Grade-level math instruction allows teachers to differentiate students' varied learning needs and abilities while maintaining the supportive aspect of group learning and the benefits of peer modeling and sharing strategies.

In social studies, investigations provide students with an understanding of the concept of community and take the children out of the immediate school neighborhood and into the New York City metropolitan area. The students increase their geography skills through the use of maps and directions as students study how families meet their needs and wants in diverse neighborhoods.

The concept of responsible citizenship is introduced, within the family and extending outward to the classroom and broader community.
Second Grade
Literacy instruction continues as children begin reading more difficult texts to develop written and oral comprehension.
Grade-level math continues as the children delve into double- and triple-digit addition and subtraction, geometry, and early multiplication.
In social studies, students study their local community and learn about characteristics that define urban, suburban, and rural communities; democratic principles and participation in government are also introduced.
The second graders begin to weave technology, social studies, and literacy together in creating multimedia presentations and projects.
Third Grade
In the third grade, we empower students to become more independent and increase opportunities for problem-solving, organizing, and managing their academic tasks.
The third graders study the Eastern Woodlands and the Lenape people who inhabited the land long ago, focusing on change over time through a critical lens of identity and activism. Through a study of Henry Hudson and the history of the Hudson River, students begin to understand the impact of colonialism on the history of New York City. This exploration supports students' growing awareness of identity, social justice, and representation of groups of people long ago and in today's world.
Integrated writing pieces are supported through half-group instruction, allowing teachers to work closely with each student on individual goals. With the introduction of 1:1 Chromebooks in the third grade, students further incorporate revising and editing into their process.
Fourth Grade
Expressing ideas and developing a voice are keystones of the fourth-grade curriculum. Discussions surrounding social conflicts in class — as well as the social issues in the world — provide a forum to share and listen to differing opinions.
Our literacy workshop model provides whole-class instruction with a focus on the strategies, habits, and processes of readers and writers. Children then engage in independent practice and internalize the teaching. Each writing unit takes students through the writing process from start to finish, as they incorporate teacher and peer feedback to refine and develop their crafting moves as writers.
While reading independently, students are able to build their stamina, strengthen their comprehension skills, fluency, and approach unfamiliar words in context. As a community of readers, students often meet in small groups and partnerships, which promote discussion and active participation.
The fourth graders delve deeper into the study of New York City through an immigration unit that incorporates history, geography, culture, economics, and government before the European colonial era to the modern period.
Fifth Grade
The elementary experience at Corlears culminates in fifth grade, where the children enjoy a memorable and robust year of learning and leadership while preparing to move on to middle school.
The humanities program for the fifth graders encompasses reading, writing, spelling and social studies. The high level of integration at this level provides academic rigor along with highly developed critical thinking, collaboration, and communication skills.
Grade-level math instruction utilizes the math workshop model, but also cross-references the content needed to prepare for the Independent School Entrance Exam (ISEE) in the fall. Our 10s students' problem solving incorporates larger numbers and multi-step problem solving, with a focus on mathematical proofs. Being able to prove your thinking and computation instead of answering, "I just know," lays the foundation for higher level mathematics and moves students into algebraic thinking.
The students take on many leadership roles within the school community, including classroom buddies, weekly assembly-hosting duties, and an annual, class-generated service learning project.
Each spring, fifth graders attend an overnight trip focused on team-building and making lasting memories as they celebrate their Corlears journey and time spent together.
Graduates of Corlears are vibrant, intelligent and compassionate young critical thinkers, poised and ready to take the next steps into middle school.
Beyond Corlears:
Middle School Outplacement
We know that your child's educational journey beyond Corlears is equally important.
We're proud to say that by the time our students are embarking on the middle school outplacement process in fifth grade, they know themselves as learners, they are confident in who they are as individuals, and they hold values that help them determine what type of middle school resonates with them most.
With the option to transfer enrollment to The Calhoun School, the prioritization in applications to District 2 public middle schools, and the built-in supports for independent school applications through our highly successful Outplacement Program, Corlears endeavors to create a process that is stress-free and filled with moments of discovery for students and their families.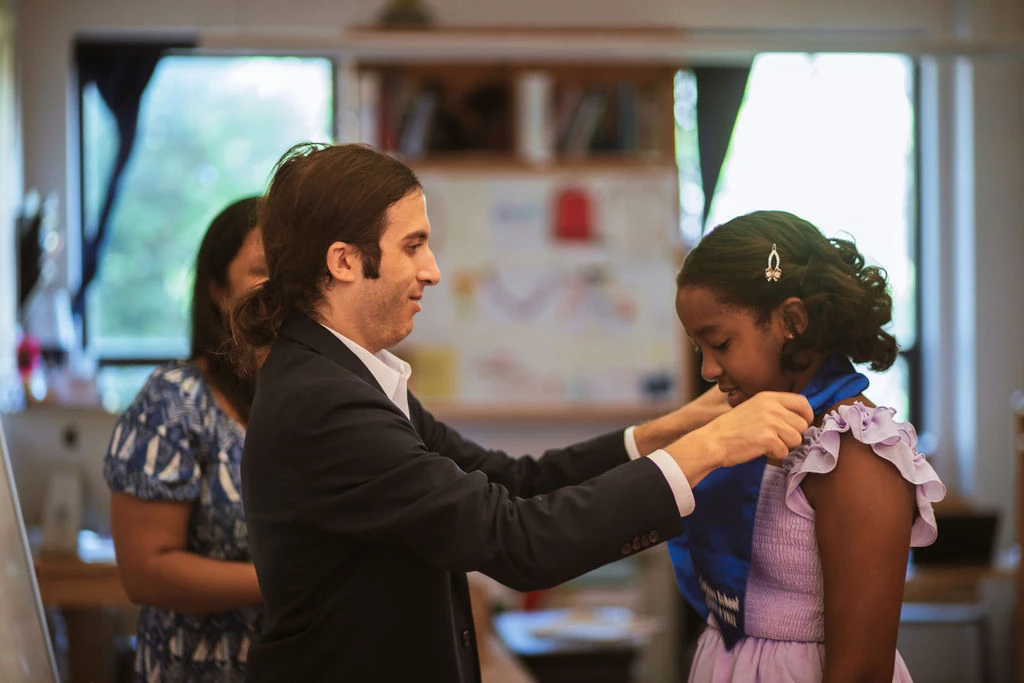 2023–24 Maximum Tuition for Grades 1–5
Instead of the traditional financial aid model, Corlears assesses financial information submitted through the
Tuition Equity and Accessibility Model (TEAM)
during the admissions process to determine the equitable tuition level for your student, which may be lower than the amount shown below.
For the Elementary program, $58,600 is the
maximum
amount a family may be asked to pay for the 2023–24 year.
Connect with Admissions
Have questions? Our admissions team would be happy to help. Connect with the team anytime at admissions@corlearsschool.org, or click the button to subscribe for more information.