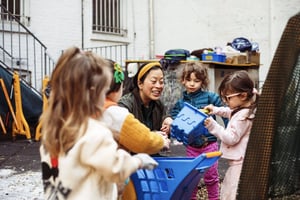 Faculty and Staff
Learn more about Corlears School's impressive faculty expertise and explore our staff directory.
Without a doubt, our faculty are the single most impactful part of the Corlears journey
. They hold the highest degrees in childhood education, and through Corlears' commitment to professional development and training, they have an exceptional level of expertise not typically found in most early years educational settings. They also love what they do — and it shows.
Faculty Expertise
All Corlears faculty have a baseline in training that extends well beyond their graduate degrees. All teachers take part in training related to the core programs and approaches at their respective age levels. Teachers have engaged in a variety of PD offerings through NYSAIS, including but not limited to the following organizations:
We are a professional learning community that engages one another in bringing theory to practice as we meet during weekly staff meetings and on professional development days dedicated to teacher training and development in various areas. Leadership within the educational program is provided through our Assistant Head of School, Division Directors, and Student Success Team in partnership with coaches, specialists, service providers and psychologists.
Experience and Qualifications
All Head Teachers hold Master's degrees in early childhood or elementary education. Associate Teachers interested in becoming Head Teachers are often working toward — or are enrolled in — Master's degree programs. Many teachers have additional, dual, or advanced degrees and certifications.
We Don't Just Teach Subjects — We Teach Students
Every student brings with them different talents, interests, abilities, and learning styles. At Corlears, we go beyond the classroom to ensure children receives individualized attention.
In fact, all teachers partner with families to learn about children's personal interests as they begin to build a bridge between home and school, then incorporate aspects of the children's home life into their studies and spaces.
This extra effort is what makes learning more meaningful and effective, and is just one small part of what makes Corlears different from the rest.
Corlears School's Collaborative Environment
As children get older and develop emotionally and cognitively, we work with the whole child and challenge them academically, socially, and emotionally. Teachers partner with each other and families to help each child be their best. Collaboration across disciplines is also common, as teachers design a specific curricula based upon the developmental stages of children as well as their particular needs.

Every teacher is an expert in their field, with a solid and well-rounded understanding of child development. We create classrooms where students are able to take risks and embark upon challenges that help them learn deeply, and make meaning beyond memorization. In addition, partnerships with families are forged through regular communication and sharing of the learning process.
Meet the Team
Our full staff directory is below, sorted alphabetically by first name. Click on the photos to learn more about these members of our vibrant and inclusive community.
Faculty
Administrative Staff