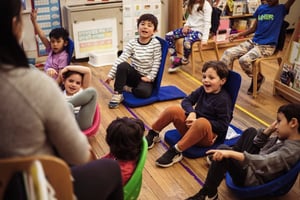 Kindergarten
As Corlears students enter the all-important elementary years, it's all about making connections and building independence.
Program Overview
Kindergartners are bubbling with new thoughts and ideas. Our Ks curriculum integrates social studies, science, math, art, and technology, fostering a growing understanding of how everything in our world is interconnected.
As students settle down to work, they apply the reading, writing, and math skills they began developing in their preschool years. Small-group instruction, along with phonics and movement, bring reading and writing to life. Morning meetings create multiple opportunities for whole-group discussion, and mini-lessons for skill development as they contribute to a community of learners.
Why Choose Seedlings at Corlears?
"The elementary years are arguably the most important years in a child's educational journey. During this time, children are not only learning how to be students but also who they are as individuals. As elementary educators, we have the unique opportunity to help children develop a positive self-efficacy and strong ethical character so that they may go out and have a positive impact on the world."
In Kindergarten, students study "Self and Others." Each unit helps students study themselves in the context of their immediate surroundings. Students will learn about similarities and differences between children, families, and people in the communities they belong to. Students learn about respect for others, and rights and responsibilities of individuals. They also have a chance to explore the Chelsea neighborhood, and study jobs in the community.
Kindergarteners at Corlears experience learning through many subject areas, including:
Math: Students are encouraged to think like mathematicians through a constructivist approach, incorporating fact fluency rather than rote memorization.
Art: In our art studio, kids are free to express their newfound ideas in creative ways, including through paint, clay, and recycled materials.
Science: In science lab, children focus on topics related to their social studies explorations — this is where new observation and critical thinking skills are cultivated.
Technology: Using iPads as tools, Kindergartners love mastering math and literacy skills.
Spanish: As children move into Kindergarten, they use their new understanding during morning meeting routines. Greetings, songs, weather, and the calendar are presented in Spanish.
P.E.: Students in the elementary programs begin to play competitive games where they learn the fundamental skills of volleyball, basketball, soccer, and floor hockey. Along with having fun, these activities help students develop peer relationships, teamwork, and a respect for fair play.
Music: All students develop musical and social skills through singing, playing games, participating in movement activities, and playing instruments. Students also learn songs of cultural and historical importance as they relate to units of study.
We know how children learn best.
Decades of deep thinking on early years education has gone into the development of the Corlears curriculum. Our Kindergarten program provides children with a foundation of learning and confidence for their school life, and with our 50+ years of experience we are uniquely equipped to provide children with skills including language, math, science, and art, while also ensuring their social and emotional development.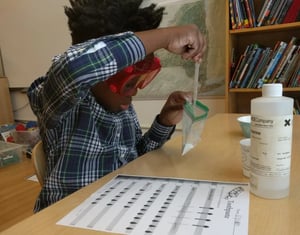 Small class sizes, always.
Classes are formed with developmental readiness in mind, and children are closely supervised throughout the day. Kindergarten classes do not exceed 16 students, and a 10:1 student-teacher ratio across the elementary division is standard.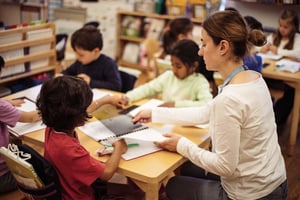 Supportive scheduling.
The elementary programs are full day, 8:30 a.m.–3:15 p.m., with before- and after-school programming available through Corlears Plus.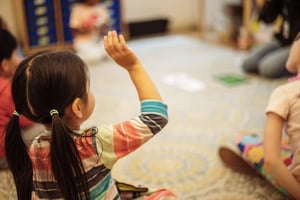 2023–24 Maximum Tuition for Kindergarten
Instead of the traditional financial aid model, Corlears assesses financial information submitted through the Tuition Equity and Accessibility Model (TEAM) during the admissions process to determine the equitable tuition level for your student, which may be lower than the amount shown below.
For the Kindergarten program, $58,600 is the maximum amount a family may be asked to pay for the 2023–24 year.
Connect with Admissions
Have questions? Our admissions team would be happy to help. Connect with the team anytime at admissions@corlearsschool.org, or click the button to subscribe for more information.