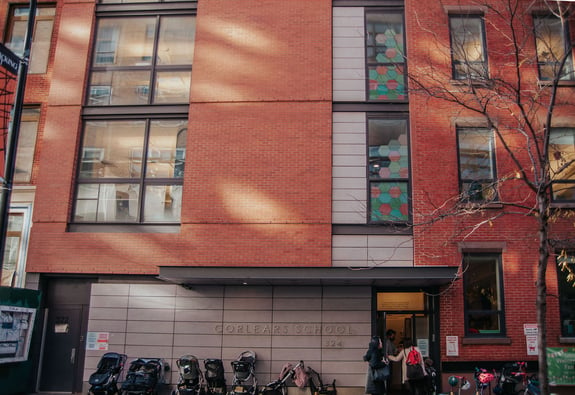 Press and Media Coverage
Corlears in the News
For media and press inquiries, please contact us at communications@corlearsschool.org.
Masks, Young Children and Learning
MAR. 16, 2022 — CHELSEA NEWS
A conversation with Corlears' Colleen Goddard, Ph.D., an expert in early childhood development and a practitioner, consultant and college professor with over 22 years of experience, about the pandemic's impact on young children, and the city's recent policy changes.
11 Summer Camps NYC Kids Can't Wait To Attend
FEB. 28, 2022 - TIME OUT
3. Camp Corlears
Camp Corlears focuses on giving kids space outdoors to play, learn and laugh with their friends. The Chelsea elementary school offers a number of different options throughout the summer that are a great fit for children of all ages. At all of the options, children will be inspired by nature and their own artistic creativity to join in a vibrant and welcoming community.
Checking in on Independent Schools
FEBRUARY 4, 2022 — CHELSEA NEWS
Successfully educating children is hard work. Doing it during a two-year pandemic takes everything each school community has to give. Corlears Head of School David Egolf, Early Childhood Specialist Colleen Goddard, Kindergarten Teacher Olympia Hamlor, and Studio Art Teacher Christine Walker reflect on their experiences teaching during the pandemic.
25 Free Things To Do in NYC This Winter
JAN. 16, 2022 — MOMMYPOPPINS
17. Explore the Learn. Play. Grow. Center
Young children and their families can avoid the chillier temperatures with indoor fun at the Corlears School. Take advantage of the free programming, which includes free play, movement, theater class, and STEAM activities every other Saturday beginning Saturday, January 22.
Going Big When You're Small: Three Lessons for Nonprofit Leaders Responding to the Pandemic
NOV. 30, 2021 – FORBES
Small nonprofits are often vulnerable to major market shifts like those caused by the current pandemic, but they also have advantages inherent in their small size that can be the secret to turning those challenges into opportunities. David Egolf, Corlears Head of School, offers three guiding principles that can help you through to success.
Corlears Launches Learn. Play. Grow. Center
NOV. 17, 2021 — CHELSEA NEWS
Corlears School launched free public programming open to all NYC families on Saturday, October 16. The Chelsea preschool and elementary school building is open to young children and their families as the Learn. Play. Grow. Center over 13 Saturdays through May.
David Egolf Head of Corlears School on 5 Things Parents Can Do to Help Their Children Thrive and Excel in School
NOV. 3, 2021 — AUTHORITY MAGAZINE
School is really not easy these days. Many students have been out of school for a long time because of the pandemic, and the continued disruptions and anxieties are still breaking the flow of normal learning. What can parents do to help their children thrive and excel in school, particularly during these challenging and anxiety-provoking times?
Organizational Resiliency in the Face of Crisis: A Framework for Resilience and Stamina
AUG. 20, 2021 — FORBES
At Corlears, we recognized that providing optimal space for young children to learn is foundational to our mission. Because in-person learning is more impactful for most of our students, we created opportunities for in-person instruction while also recognizing the challenges and risks associated with Covid-19. David Egolf, Corlears Head of School, shares a framework of priorities that can help nonprofit leaders develop resilience and stamina.
How Can I Prepare My Kids for Back to School? Professional K-12 Teachers Weigh In
AUG. 2, 2021 — WYZANT
As the summer ramps up and the fall year approaches, many parents are wondering how to best prepare their children for going back to school during this still uncertain time. The deadly pandemic and a year-and-a-half of virtual classes has taken its toll on a lot of students, and returning to in-person classes may reawaken their anxieties and fears. To prepare your kids for going back to school while ensuring they have a positive, fulfilling summer, six educators, including David Egolf, share their advice and best practices.
What Is the Difference Between Hybrid and Blended Learning, and What Do They Have in Common?
MAY 17, 2021 — CLASS TECHNOLOGIES INC.
It's clear that learning will look different even after concerns about COVID-19 have diminished. Two new terms that we frequently hear these days are "hybrid" and "blended learning." What are they? What is the difference between hybrid and blended learning? David Egolf of Corlears School explores the differentiation between blended and hybrid learning.
A Year Later, How Are Independent Schools Doing?
APRIL 8, 2021 — CHELSEA NEWS
As New York City officials went into crisis mode at the beginning of the pandemic last spring, independent schools quietly slipped out of the spotlight to chart their own course in staving off the worst effects of the novel virus ravaging the city. What emerged was a strikingly similar theme and process across private schools throughout Manhattan: to encircle community, plan, strategize and protect while moving forward. David Egolf looks back on the challenges schools faced during the pandemic and how this past year reinforced Corlears' values.
Milestone Celebration for Corlears
JUNE 13, 2019 — CHELSEA NEWS
On Saturday, June 8, Corlears School celebrated its 50th birthday with a classic backyard party. More than 60 alumni, founding families, staff, and parents gathered at the independent school to reconnect and reminisce in honor of the momentous anniversary year.

Press Releases and Recent Blogs
Corlears School Partners with The Calhoun School for Middle School Enrollment Transfer Initiative
FEBRUARY 6, 2023 — CORLEARS SCHOOL
Corlears School is partnering with The Calhoun School, a historic force in progressive education on the Upper West Side, to forge an innovative and unprecedented enrollment agreement. Beginning with the class of 2024, students who graduate from fifth grade at Corlears will have the option to directly transfer their enrollment to Calhoun's sixth grade without an admissions process and with priority in Calhoun's financial aid offer timeline.
Corlears School Announces Two Innovative Programs Creating Access and Equity
AUG. 31, 2021 — CORLEARS SCHOOL
Early education leader Corlears School announced today it is launching two innovative programs, both designed to create new ways for families in the neighborhood to access the tremendous expertise and facilities that the nonprofit, progressive private school has to offer.
Corlears Voted Best Private School in Manhattan
APRIL 20, 2020 — "BEST OF THE CITY" AWARDS PRESENTED BY BETHPAGE FEDERAL CREDIT UNION
The results are in! Corlears School was recently voted number one private school in Manhattan in the annual "Best of the City" awards, presented by Bethpage Federal Credit Union in Long Island. We want to thank our vibrant, caring, and compassionate community for nominating us and voting us to the top spot!
Connect with Admissions
Interested in enrolling your child at Corlears School? Connect with the team anytime at admissions@corlearsschool.org, or subscribe for more information about our school programs.