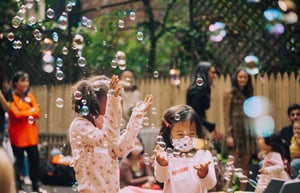 Learn. Play. Grow.
The best in early education, free to the public on select Saturdays at Corlears School. We're back for 2023–24! Here you'll find the full schedule and registration links for the third year of LPG.
Corlears School introduced Learn. Play. Grow. in October 2021. In founding this initiative, our mission has been to offer our expertise and facilities alongside a coalition of community-minded businesses and organizations in the effort to create broader inclusion and access for families in our diverse city.

We've opened our space up to hundreds of families from inside and outside our school community for completely free programming designed by our expert faculty in addition to partners including The GIANT Room, Love Child, Ramblin' Dan's Freewheelin' Band, Arts For All, and more!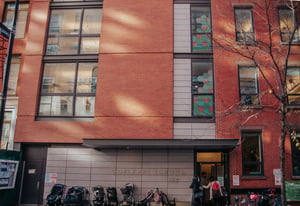 Equity, access, and belonging are core to who we are as a school and nonprofit organization, and we have 50+ years of experience fostering growth through play at the early childhood and elementary levels. LPG has been an exciting opportunity to share our mission with local families, and this is just the beginning!

Learn. Play. Grow. is also part of a larger initiative that includes shifting many aspects of the traditional independent school model, including the Tuition Equity and Access Model (TEAM), which has changed the paradigm from financial aid to equitable tuition level-setting for all Corlears families.
We hope to see you soon!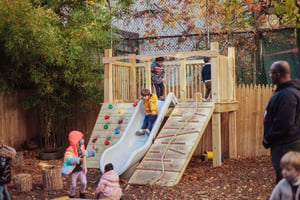 Schedule and Registration
Each LPG Saturday, Corlears hosts programming from our very own expert teachers in addition to on-theme activities from recurring partners The GIANT Room, Love Child, and Arts For All. Plus, each week features a different special guest and an opportunity to engage in service to our community.

Registration is required for all activities — except service learning — so that we can manage capacity and welcome as many families as possible.

The 2023–24 season of Learn. Play. Grow. takes place on the following 8 Saturdays with accompanying themes:
October 28, 2023: Halloween Fall Fest
November 11, 2023: Day of Gratitude
December 2, 2023: Winter Fest
January 20, 2024: MLK Day of Service
February 10, 2024: Lunar New Year Celebration
March 2, 2024: Sports Day
April 20, 2024: Earth Day
May 18, 2024: Summer Fest
Full Schedule
Ages 0–2
Ages 3–4
Ages 5–10
Subscribe to Stay in the Know
Sign up to receive the Learn. Play. Grow. newsletter and be the first to know about new programming, special events, and more.
Making an Impact
Each year, we ask families to weigh in on the impact of Learn. Play. Grow. Here's what some of our LPG families had to say.
"In The GIANT Room, I enjoyed how one staffer answered all the children's questions but refrained doing the task for the child. She instead would ask, "How can you problem-solve?" This was a teaching moment even for me and I learned that kids are capable of handling tasks themselves. I started using this approach with my kids. So I even learned from The GIANT Room!"
"[Learn. Play. Grow.] opened my mind about what early childhood education should look like."
"[It was memorable] to see my child embrace new faces and a new environment. The staff made her feel so comfortable."
"This was really a tremendous experience for our children."
Make a Donation to Learn. Play. Grow.
LPG's mission of providing NYC families with free access to our facilities, programming, and early years expertise relies on the generous support of families like yours. Every dollar counts, and monthly giving in small amounts is available!
Corlears School is a public charity under Code Section 509 (a)(I) and exempt from federal income tax per Section 501 (c)(3) of the Internal Revenue Code. EIN # 13-5653140. No goods or services will be provided in consideration of this contribution. All gifts are tax-deductible to the extent allowable by law.
Does my child have to be a student or alumni of Corlears School to take part in programming?
Nope! We founded this initiative to promote greater access and equity in our Chelsea community and surrounding boroughs, especially as families have struggled to maintain children's academic growth and wellbeing during the continued COVID-19 crisis and beyond. All families are welcome.
How do I register to attend?
Registration will be available on Sawyer, though we're not live for the 2022–23 year quite yet.
The activity I'm interested in is full. What do I do?
If your activity of choice is booked up, add your child to the waitlist. And if you drop by LPG for another registered activity on that day, you could get lucky — if there are a lot of no-shows at your activity of choice, there might be enough room for you and your child. However, please be gentle with staffers if there isn't enough room — we do our best to accommodate as many families as possible inside our small school, and we need to be mindful of everyone's safety.
Can I drop my child off at LPG?
While not every activity requires parent participation, all parents and caregivers must remain on-site at Corlears School with their child(ren) during Learn. Play. Grow.
I want to partner with Corlears School, either as a programming partner or as a corporate sponsor. How can I do that?
Email us at lpg@corlearsschool.org and we'll get back to you as soon as possible. We look forward to hearing from you!
Connect with Admissions
Interested in enrolling your child at Corlears School? Connect with the team anytime at admissions@corlearsschool.org, or subscribe for more information about our school programs.