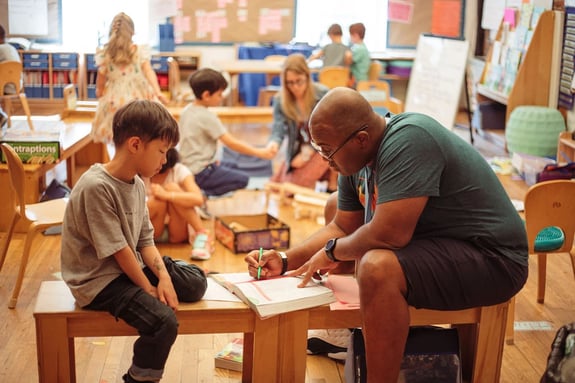 Program Overview
A complete overview of our academic and auxiliary programs serving toddlers through elementary-aged children.
The world is interesting, and learning is fun. So why not teach children to discover it for themselves?
Curiosity drives our students to grow while they explore math, science, writing, and social justice issues to make sense of the world around them. Our expert teachers introduce big and challenging topics, and guide students as they expand their thinking and put new skills to the test — often in a real-world context in our own neighborhood. Literacy, quantitative reasoning, scientific inquiry, problem-solving, artistic expression, social and emotional learning, and social justice are incorporated into every child's course of study at every age; so are Spanish, art, music, library, technology, and physical education.
Our older students go beyond typical classroom tests to demonstrate what they've learned in a tradition we call "culmination." This is when students are ready to "go public" with all that they have learned, harnessing their interests, skills, and talents to share what they've discovered to the broader community. This informative, museum-style experience is created by students and teachers, transforming their spaces to share their learning with their families and members of the school community. Past classrooms have been transformed into barber shops, voting precincts, newsrooms, tenements, and construction sites, showcasing the depth of students' new knowledge in all types of subjects!
Educational Programs
Decades of deep thinking about early childhood education has gone into the development of the Corlears curriculum, and it shows in our graduates' lifelong love of learning and their sense of responsibility to their community.
Browse our available school programs below and click to learn more.
Why Choose Seedlings at Corlears?
Auxiliary Programs
At Corlears, we believe that the values that shape our community should be woven into every aspect of our daily lives, both inside and outside of the classroom. Corlears offers a variety of auxiliary programs that empower children to explore new interests, build connections, and have fun!
While Corlears Plus is limited to families enrolled at Corlears School, both Learn. Play. Grow. and Camp Corlears are open to all.
Connect with Admissions
Have questions? Our admissions team would be happy to help. Connect with the team anytime at admissions@corlearsschool.org, or click the button to subscribe for more information.