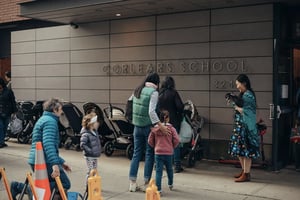 Families Association
Corlears families are important members of the Corlears School community, and we encourage our families to get involved in the life of their children's school.
About the Families Association
The Families Association (FA) plays a vital role in strengthening the partnership and communication between staff and parents. It is the vehicle through which parents and caregivers can participate in a range of school initiatives, have their voices heard, and stay in tune with all that is happening at Corlears. The FA coordinates community events that occur throughout the year, provides resources to answer questions that families may have, and works to perpetuate the strong sense of community that brings vibrancy to our school.


Class Reps

Class Reps serve as spirited ambassadors within each age-level, facilitating a sense of school community and helping parents stay informed and involved. Class reps support new families as they join the school community, and support all parents during moving-up years. Class Reps are familiar with school policies and procedures and embody the Corlears tradition of volunteerism by supporting classroom events and school-wide FA initiatives throughout the school year.
POSOC (Parents of Students of Color)
POSOC is a subcommittee of the Families Association and an essential part of cultivating a healthy school community at Corlears School. This group was formally established at Corlears as an FA committee. Parent volunteers collaborate with the Director of Equity, Inclusion and Community Life, to provide opportunities for families and students of color within the community that represent their unique issues, needs and experiences of being in independent schools where people of color are often underrepresented.
POSOC offers affinity spaces for adults and children, as well as community-wide events that aim to create a sense of belonging. These events and gatherings are sometimes focused on the adults, sometimes on the kids, or both!
POSOC Mission Statement
Parents of Students of Color (POSOC) seeks to promote an atmosphere of academic achievement, mutual respect, acceptance, celebration, and empowerment, while building a greater sense of community for our families and students of color within the full spectrum of life and activities at the Corlears School.
Who Does POSOC Refer To?
"People of color" is a term primarily used in the United States to describe any person who is not white, as a way to positively identify those who have not benefited from a culture of white privilege in America. The term does not solely refer to African-Americans; rather, it encompasses all groups that have experienced systemic racism in our country. All groups who have not benefited from a culture of white privilege in the United States have had their own experiences with exclusion and discrimination. The term "people of color" includes this vast array of different racial, ethnic and multiracial groups, who have the potential to form solidarity with each other for collective action and social justice.
How Can the Community Support POSOC?
Everyone in the Corlears community can support POSOC by attending community-wide events, and honoring the closed affinity spaces. "All School Events" are hosted by POSOC for everyone in the community to participate in. "Closed Affinity Events" are for parents and students of color, to connect, reflect and relate to their own racial group membership, explore the diversity that exists among and across people of color, and aim to make strides towards solidarity as people of color.
Closed affinity events are opportunities for discussing issues related specifically to racial/ethnic identity development in a safe environment; generating community, fellowship, and empowerment as people of color; and envisioning strategies for greater racial and ethnic diversity, equity, and inclusion in our school and the communities we are part of collectively and individually.
Why Choose Seedlings at Corlears?