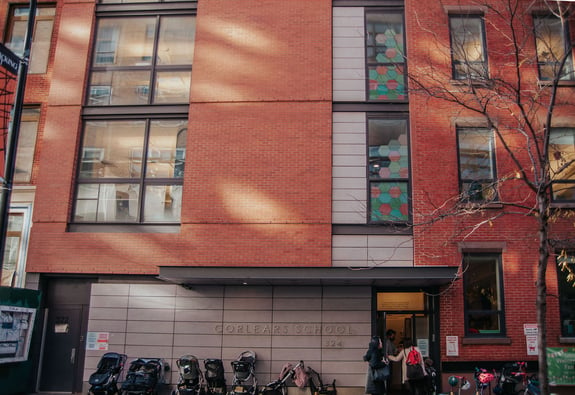 Privacy Notice
We respect the privacy of every individual who contacts Corlears School or visits our website. This page explains Corlears School's privacy policy, what information is collected when you visit Corlears School's website at www.corlearsschool.org, and how it may be used by Corlears School.
By utilizing our website, you agree to the privacy policy set forth below (the "Privacy Policy"). We reserve the right to amend or update the Privacy Policy on our website. Please visit this page regularly to check for updates.
Note: This information applies to our website visitors only.
What Information We Collect and Why
Similarly to other websites, we collect non-personally identifiable site usage data to understand the activity on our website and optimize it. This includes Internet Protocol (IP) addresses, the pages each visitor has visited and interacted with while on www.corlearsschool.org, the duration of time each visitor stays on our site, what types of devices visitors have used to access our site, how site visitors arrive to our site, day/time of visit, and what country users are visiting from.
This information is used to better understand our website's functionality and usage, and to improve the user experience.
The only personally identifiable information collected is what you voluntarily provide to us via our online forms or via enrollment paperwork, such as name, address, email address, and phone number. This information is used to administer your account and provide products and services you requested from us.
When you provide us with your personally identifiable information, including contact information, you are consenting that we may contact you via mail, phone, text, and email, depending on the information provided. Any information you provide to us is used to contact you about our products or services, as well as other content that may be of interest to you. In order to provide the content requested, we need to store and process personal data.
If you are receiving communications from Corlears School and wish to opt out, you may do so at any time. Each email contains an unsubscribe link, or you may contact us at office@corlearsschool.org and state what you specifically wish to opt out of, or write to us at:
Corlears School
324 W. 15th Street
New York, NY 10011
Children Online
Corlears School's website does not knowingly collect or maintain any personally identifiable information from children under the age of 13. We ask those under the age of 13 to not provide personal information anywhere on the Corlears School website.
Donor and Credit Card Information
Corlears uses a third-party credit card processing vendor which is Payment Card Industry (PCI) compliant. We do not collect nor store any credit card information.
External Links
Corlears School's website occasionally links to third-party websites. We are not responsible for the content of these websites or any information or data they collect.
Use of Third-Party Services
We use the third-party services outlined below. By using this website, you agree to the terms of services of our third-party providers.
HubSpot: Terms of Service and Privacy Policy
Ravenna: Terms of Service
TADS: Privacy Policy
Sawyer: Terms of Use and Privacy Policy
Stripe: Privacy Policy and Terms of Use
This privacy policy was last modified July 2023. If you have questions, please contact us at office@corlearsschool.org.