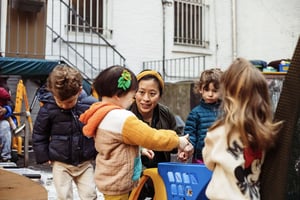 Nursery School
for Ages 2–3
The Seedlings nursery program at Corlears fosters the natural wonder and curiosity of 2- and 3-year-olds.
Program Overview
Through play-based learning and social interaction, we guide children to make discoveries about themselves, their classmates, the school community, and the world.

Every child enrolled in our Seedlings program will:
Develop a greater sense of self, expanding the ways they express their thoughts, needs, and interests.
Establish bonds beyond their immediate family members, developing a sense of belonging, courage, and compassion.
Engage in a play-based curriculum (think painting, sorting, singing, building, squishing dough, and dramatic play) that grows their sense of independence and creativity.
Experience science, math, art, language, movement, and Spanish through teacher-guided experiences and thoughtfully curated materials.
And we're there for you, too! We know that raising and educating children takes a village, and that's why we prioritize building a supportive community within our Seedlings program and beyond. We value the role of families as integral members of our school community, and strive to provide a nurturing environment for both children and caregivers.
Why Choose Seedlings at Corlears?
We know how children learn best.
Corlears teachers honor this formative stage of early childhood by implementing an emergent curriculum — one that evolves over time and is influenced by each group's curiosity. After careful observation of the children's interests and development needs, teachers introduce new materials, re-design classroom spaces, and pave the way for further experimentation and inquiry.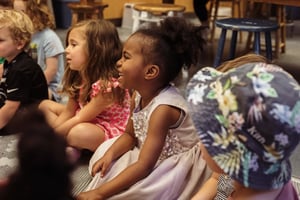 Small class sizes, always.
Classes are formed with developmental readiness in mind, and children in the early childhood division are closely supervised throughout the day. Class sizes do not exceed 14 students, and all classrooms have 2–3 teachers present on a regular basis.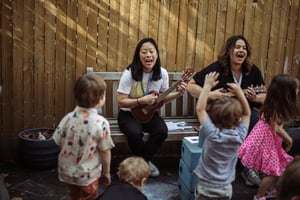 Flexible, age-appropriate scheduling.
Programming options include 5 days/week from 8:45–11:45 a.m., with an extended-day option until 3:00 p.m., and after-school care options until 6:00 p.m. through Corlears Plus. Or, for our 2s, a 3-day flex option meeting on Mondays, Wednesdays, and Fridays from 8:45–11:45 a.m. with the option of extending to 5 days/week as the school year progresses.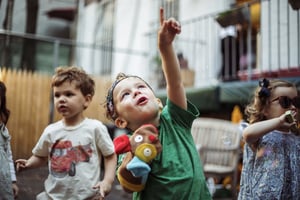 2023–24 Maximum Tuition for Seedlings
Instead of the traditional financial aid model, Corlears assesses financial information submitted through the Tuition Equity and Accessibility Model (TEAM) during the admissions process to determine the equitable tuition level for your student, which may be lower than the amount shown below.

The below tuition rates are the maximum amount a family may be asked to pay for the 2023–24 school year.
3-Day Seedlings
(2s Only)
Three half-days per week:
$20,000
5-Day Seedlings
(2s and 3s)
Five half-days per week:
$32,400
5-Day Seedlings
(2s and 3s)
Five full days per week:
$56,160
Connect with Admissions
Have questions? Our admissions team would be happy to help. Connect with the team anytime at admissions@corlearsschool.org, or click the button to subscribe for more information.