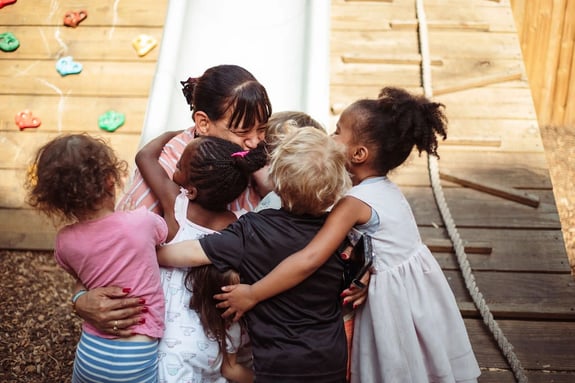 TEAM
Tuition Model
Everything you need to know about affording Corlears — maximum tuition prices, what tuition covers, and the paradigm-changing TEAM (Tuition Equity and Accessibility Model).
Corlears is a leader in the prioritization of socioeconomic diversity and removing barriers to entry for the diverse community of young children in NYC, consistently dedicating 25–30% of gross tuition revenue toward what we used to refer to as financial aid; this is well above the independent school norm, especially for the early childhood and elementary years.
In the 2022–23 school year, Corlears introduced the Tuition Equity and Accessibility Model (TEAM), changing the paradigm from financial aid to equitable tuition level setting for all families. The TEAM process is supported by the TADS Financial Aid Assessment module during the admissions or reenrollment process to determine an equitable tuition level — from zero to maximum — for all of our families. (Of course, families may also choose to opt out and pay the maximum tuition.)
The TEAM is one of the many ways Corlears School demonstrates its commitment to DEIB, ensuring equity in our school all the way down to the tuition-setting structure. Through this paradigm, more than ever, all families are able to contribute in an equitable way to helping Corlears to maintain a high level of faculty expertise and an extraordinary educational program.
What Does Tuition Cover?
Tuition covers a majority of the expenses associated with providing an education to young students, including:
All classroom materials

Lunch for students from Kindergarten through Fifth Grade

Access to technology including iPads, Chromebooks, and learning software

Access to a brand-new, state-of-the-art discovery yard and playground space

Musical instruments, including recorders for our third graders and violins for our fourth and fifth graders

Art supplies, including access to ceramics materials

Access to learning support services, including a reading specialist, math coach, early childhood specialist, and psychologist
Daytime field trips
Additional opportunities for student growth and parent engagement scaled by families' equitable tuition level include: Corlears Plus, Camp Corlears, overnight trips, and tickets to our annual gala.
2023–24 Maximum Tuition
Instead of the traditional financial aid model, Corlears assesses financial information submitted through the Tuition Equity and Accessibility Model (TEAM) during the admissions process to determine the equitable tuition level for your family, which may be lower than the amount shown below. The below tuition rates are the maximum amount a family may be asked to pay.
Roots (Toddler)
Schedule: 2-day morning class (T/Th)
Tuition: $10,500
Schedule: 3-day morning class (M/W/F)
Tuition: $15,000
Seedlings (Nursery for 2s/3s)
2s
Schedule: 3 half-days per week
Maximum tuition: $20,000
2s/3s
Schedule: 5 half-days per week
Maximum tuition: $32,400
Schedule: 5 full days per week
Maximum tuition: $56,160
PreK
Schedule: 5 full days per week
Maximum tuition: $56,160
Kindergarten–Fifth Grade
Schedule: 5 full days per week
Maximum tuition: $58,600
2023–24 Fees
There is an annual building and equipment fee of $1,000 in addition to tuition that covers building maintenance, improvements, and upgrades in classroom technology.

A non-refundable application fee of $35 is payable when submitting the application for admission.

A non-refundable tuition deposit of $8,500 is required for students assigned the maximum tuition level who have been accepted and offered enrollment contracts; the non-refundable deposit is $400 for families assigned levels up to 60% of the maximum tuition. The balance of tuition is due in two equal installments. The first is due in May and the second is due in mid-September. Tuition installment plans are also available. For more information, please contact tuitionsupport@corlearsschool.org.
How the TEAM Process Works
Each year, the Board of Trustees sets the maximum tuition for the following school year.
In the fall, both enrolled and applicant families are asked to fill out the TADS Financial Aid Assessment; families may also opt out of the process and pay the maximum tuition.
Details from the assessment will be used to determine each family's equitable tuition level by considering their income, assets, and essential expenses.
Families will be provided with their tuition level ahead of their re/enrollment process.
In order to maintain our program and teacher salaries, the maximum tuition will increase annually; however, the TEAM will be administered every year and will continue to adjust a family's tuition level to match their needs.
TEAM and the Admissions Process
A family's determined tuition level is independent from decisions related to enrollment; this information is kept confidential and is not shared with the admissions committee. Additionally, receiving an indication of your TEAM tuition level does not signify enrollment or admission to Corlears School.
Tuition levels will be calculated and shared with applicant families by the end of January, ahead of admissions notifications. After the admissions committee recommends students for admission, the enrollment management team considers the entire pool of applicants to offer final admission decisions with the goal of maintaining the school's strong socioeconomic diversity.
Connect with Admissions
Have questions? Our admissions team would be happy to help. Connect with the team anytime at admissions@corlearsschool.org, or click the button to subscribe for more information.