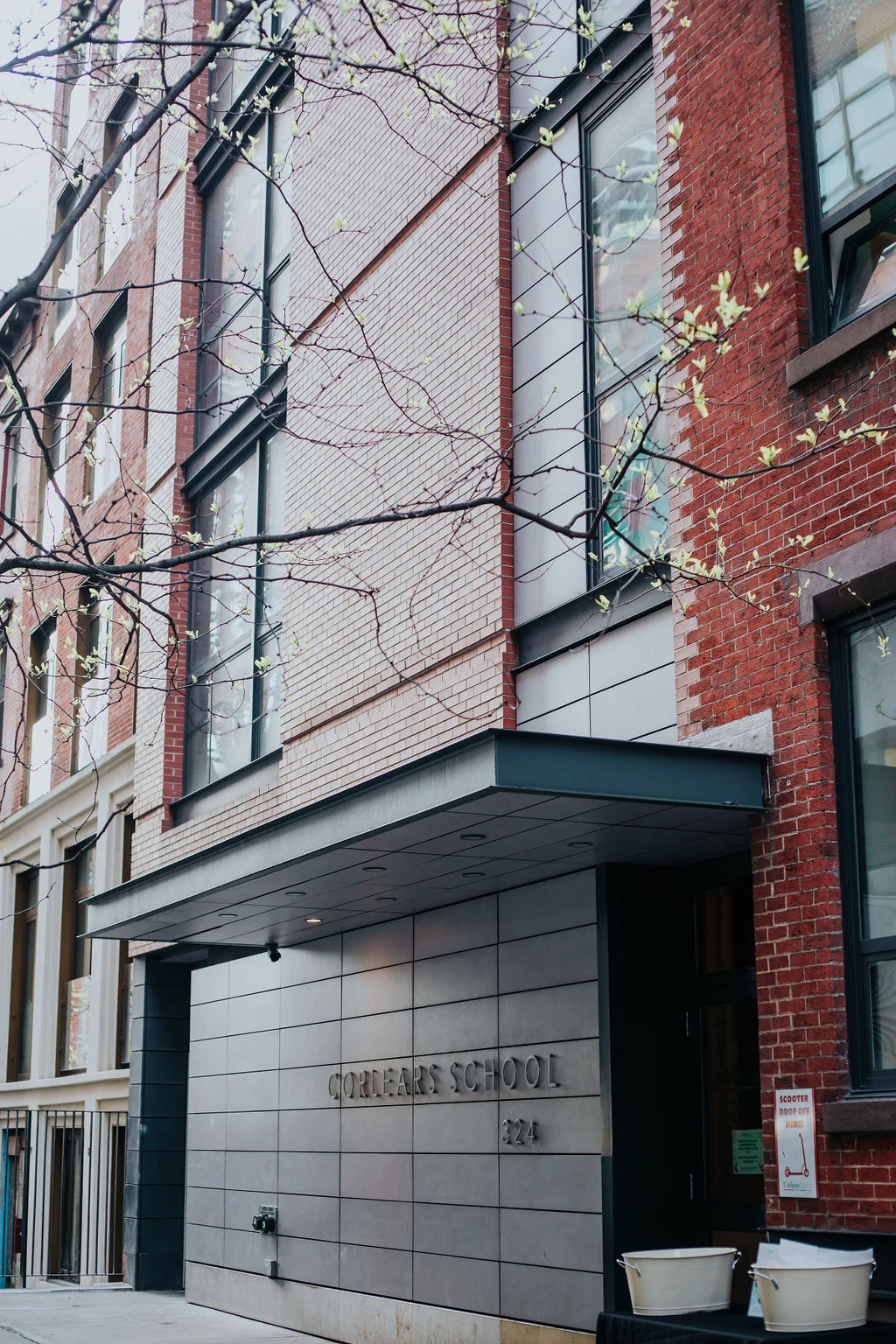 Board of Trustees Bios
Learn more about Corlears School's Board of Trustees. Sorted alphabetically by last name. To see photos, view our Board of Trustees page.
Savita Bharadwa, Co-Vice Chair
Savita Bharadwa has two children at Corlears. She has been a part of the Corlears community for 7 years and a board member for 5 years, now as a member of the Board's Executive Committee. The Bharadwa family feels deeply rooted in Corlears' warm, caring, and diverse community. The friendships for the parents and children alike have been a stabilizing factor in our daily lives, in particular during the challenging time of COVID-19. Savita works in public education strategy and policy. She previously worked in leadership roles at the NYC Department of Education and Newark Public Schools.
---
André Del Valle, Member at Large
André Del Valle is an educator of great experience and even greater heart, with a bone-deep belief in the potential of every student. He built his reputation as a dynamic community builder and educational innovator as Head of School at George Jackson Academy, an independent middle school for "academically-talented boys from underserved communities." He joined George Jackson in 2004 as a fifth-grade teacher and was named Assistant Head of School three years later. In 2015, the board asked him to become Head of School. During his time as Head he supervised a $1.6 million school building renovation and a $2 million dollar capital campaign.
In 2019 André took the opportunity to become Head of Middle School at Poly Prep Country Day, leading a large and diverse division at one of New York City's leading independent schools. André is now the incoming Head of School of Mary McDowell Friends School in Brooklyn. Mary McDowell is a K–12 school for students with learning disabilities.
André is the father of two girls and is married to a fellow educator.
---
Mike Glaser, Member at Large
Mike Glaser is the father of two Corlears students.Mike is married to Morgan Glaser, who is a Director in Global Relationship Management at NY Life Investments. A Corlears local, Mike has been on the board of his 150+ unit condo (The Grand Chelsea) for the past 10 years. He owns and runs several businesses. Two of his businesses are focused on environmentally friendly products. Glaser Mills is his primary business (and he's the third generation of his family to run it here and the 8th generation overall). It supplies the fabric from which the U.S. Flag is made (amongst other things). Both of Mike's parents were teachers. He is a Computer Engineer by education (Tufts Engineering '00).
---
Christopher Grimaldi, Member at Large
Chris Grimaldi has two children, one currently attending Corlears and the other a recent graduate of Corlears. Chris has been an active member of the Corlears community since 2014 and joined the Board of Trustees in 2019 as part of the Finance Committee. Chris is a founder and managing partner of a trading firm in NYC.
---
Felicia Harris, Chair of Partnership for Equity and Inclusion
Felicia Harris has a daughter who is a proud Corlears School alum. Felicia believes in Corlears mission and values. She joined the Corlears Board in 2018 after her daughter graduated. She became chair of the Partnership, Equity & Inclusion (PEI) Committee in 2020. Felicia enjoys reading, traveling, and working with young people. She is a Project Manager in Youth Initiatives division at Kings County District Attorney's Office.
---
Darsha King, Governance Co-Chair and Co-Secretary
Darsha King is a mother of three girls, all of whom have attended Corlears school. Darsha has been a part of the Corlears community for 8 years and has thoroughly enjoyed the time spent at the school. Before becoming a trustee, Darsha volunteered as a class chaperone for trips and as a tour guide during the admissions season. Darsha has been a trustee at Corlears for little over a year and is part of the Governance Committee. Being at Corlears has been truly transformational for her family, changing the way she views education and how and what kids learn in the early years. Darsha is an Operations Analyst at Sculptor Capital Management.
---
Pearl Mago, Member at Large
Pearl Mago and her family have been a part of the Corlears community since 2013 when their oldest son started in the 2/3s. They also have two younger boys at the school, both of whom started in the 2s at Corlears. Pearl has been an active member of the school community. Prior to joining the board, she co-chaired the Auction Committee and volunteered in various roles over the years. Pearl grew up in India and got her MBA in Global Business Leadership at Providence, RI. She worked as Director of Merchandise and New Product Development at a garment export firm based in India prior to moving to New York.
---
Hemangi Pai, Member at Large
Hemangi was born and raised in Ohio. As a child, Hemangi often felt her minority voice was overlooked and ignored. Hoping to assist others who shared her minority experiences, she majored in pre-law at the University of Toledo with the intent of becoming a civil rights attorney. While at Toledo, Pai worked closely with professors to create Law and Social Thought, an interdisciplinary program centered on the relationship between law, morality and power. Based on her studies, she became interested in criminal law. After she attended Northeastern Law School focusing her attention on race and criminal law, she worked as a Staff Attorney at the Committee for Public Counsel Services, Public Defender Division, in Springfield, Massachusetts. In 2007, Hemangi moved to New York and attended the New School for Social Research, focusing her studies on race and crime.

Hemangi returned to practicing law in 2009 when she began working as an Agency Attorney for the Administration for Children's Services. In 2011, Hemangi returned to criminal defense and began working at Brooklyn Defender Services. She has worked as a Senior Trial Attorney in the Brooklyn Adolescent Representation Team, a Senior Trial Attorney in the Homicide/Serious Crimes Unit and is currently a Supervising Attorney in the Criminal Defense Practice. She has also worked as an Adjunct Professor at the Borough of Manhattan Community College.

Hemangi lives in Brooklyn with her husband and daughter, who started attending Corlears in 2020. During the 2021–22 school year, Hemangi co-chaired the Parents of Students of Color Association and the Families Association. In this role, Hemangi helped to host two large events, including a graduation event for students and families. Hemangi is committed to continuing the magic of the Corlears community!
---
Elena Palatnik, Officer
Elena has two children at Corlears. This is Elena's fourth year as a community member of Corlears, and second year as a trustee. Prior to this, Elena was a class parent and was actively involved in the Families Association. Elena is a member of the Finance Committee, utilizing her experience in investment banking. Elena is Russian, was raised in Norway, and completed her higher education in London, before moving to New York for work. Multiculturalism is important to her and her family, and she has found Corlears to be the perfect school to celebrate and promote the diversity she seeks.
---
Renée Reid-Nicholson, Officer
Renée Reid-Nicholson resides in Brooklyn with her husband and their three children, all of whom have attended Corlears. They have been members of the Corlears community since their oldest son entered Kindergarten in 2014, and Renée has served on the Corlears Board of Trustees since 2017. Their son graduated in 2020, and eldest daugther graduated in 2022 Their youngest daughter continues the Corlears tradition as a happy, engaged and well-adjusted student, who loves her school! Renée currently serves as Director of Communications at the Cooke School and Institute and holds a Master's degree in marketing and communication from Columbia University.
---
Mahesh Saireddy, Treasurer
Mahesh Saireddy has two children who have attended Corlears, and has been a community member of Corlears School for 6 years. Mahesh is also the Treasurer of the school. Mahesh has learned a lot during the experience of serving this phenomenal community and navigating through the challenges presented during the COVID-19 crisis. Both of his kids have benefitting immensely from the close-knit community and the exceptional quality of education the school offers for young children. Mahesh is a partner at Goldman Sachs and runs their mortgage trading business.
---
Deepti Shenoy, Member at Large
Deepti Shenoy is the mother of a second grader, who started his first year at Corlears in September 2020. She is an enthusiastic and engaged member of the Corlears community. Over the course of the school year, she has served in the Families Association helping organize community service and fundraising initiatives for the school. Prior to this, Deepti served as the head of the Community Service Committee as part of the Parents' Association at Park Avenue Methodist Day School for two years. Deepti holds a law degree from the University of Pennsylvania Law School. For the past five years, she has practiced matrimonial and family law at a boutique firm in Manhattan, prior to which, she spent three years as in-house counsel at JPMorgan Chase.
---
Joel Steinhaus, Co-Vice Chair
Joel Steinhaus joined the Corlears School community in 2013, and joined the Board in 2015. He has three children who have all attended Corlears. Having had various board roles over the past several years, he is currently the Vice Chair and sits on the Nominating and Governance Committee. Joel is the co-founder and CEO of Daybase, the hybrid work company. He also sits on the boards of New Yorkers for Parks and uAspire, a national nonprofit focused on college affordability. He is originally from Kansas City.
---
Sarah Watson, Chair of Advancement
Sarah Watson has been part of the Corlears community for the last 7 years, joined the board in 2019 and chairs the Advancement Committee. She has two daughters attending Corlears. They are both deeply benefitting from the stability of this intimate community and its clear vocation towards the education of young children. As half of a British couple raising a family far away from home, Corlears has become a true center of Sarah's family life. Sarah has spent the last decade at BBH New York, a creative advertising agency, most recently serving as Chairman. She is now an executive coach.
---
Brandon Weber, Chair
Brandon Weber has twin daughters who graduated from Corlears School. Brandon joined the Corlears Board of Trustees in April 2015 and has served on the Advancement Committee and Finance Committee. He was Treasurer for a year before becoming Chair of the Board. Brandon has a passion for educational institutions and sees Corlears as an innovator in early childhood education. He serves as a Trustee of his undergraduate alma mater, Bard College. He is originally from Kansas City and his wife is from Slovenia. He is an analyst at Noble Path Asset Management.
---
Jeffrey Whyte, Officer and Audit Chair
Jeff Whyte has a son and a daughter at Corlears School and has been a community member of Corlears for 6 years. He has been a trustee of Corlears for almost 5 years and is on the Executive Committee, the Governance Committee, and is chair of the Audit Committee. Jeff serves as internal counsel at an investment bank.
---
Donna Wingate, Member at Large
Donna Wingate joined the Corlears community in 2020 when her son entered kindergarten after two years at Bank Street Head Start (where Donna continues to serve on their Policy Council). The Corlears School's Core Values and its focus on social justice and diversity drew Donna and her family to the school, as these features are aligned with how they strive to live in the world. Donna has worked as an editorial and creative director in art book publishing for over two decades, collaborating with curators, art historians, institutions, and artists. She is also a member of the learning group, Anti-Racist Womxn in the Arts (ARWA).
---
Paige Zachs, Member at Large
Paige Zachs joined the Corlears community in 2021 when her son entered the Nursery program. She got her start as a class parent and later joined the Gala Committee. Paige is passionate about education and civic and social organizations, having been involved in Minds Matters NYC for many years and currently sitting on the board of non-profit, Dignity Grows. She grew up in Los Angeles, graduated from the University of Pennsylvania, and worked in management consulting before leading operations at various ecommerce startups. Paige, her husband Ben, and their two sons live in the Chelsea neighborhood, which has been home for over 10 years!
---